WHAT IS SEM AND WHY IT'S A
GREAT INVESTMENT
In today's increasingly competitive digital world, search engines have become an indispensable utility across industries and institutions, including
digital marketing, healthcare, education and eCommerce. Search engines are customer service tools that allow online users to locate diverse information on the internet, including news, blog posts and brand offerings, and make informed decisions. Additionally, they serve as a powerful marketing platform for industry players to expand their online reach and increase brand awareness.
Anyone with a website can leverage search engines to promote their products and services and connect with key stakeholders. You have most likely learned about search engines in your search engine optimization (SEO) strategies, but you may not be familiar with their role in search engine marketing.
Ready to start your SEM advertising campaign? Our search engine marketing agency explains the significance of search engines in SEM and how your business can use them to speed up your customers' buying process. Learn more about search engine advertising and improve your marketing effectiveness in no time!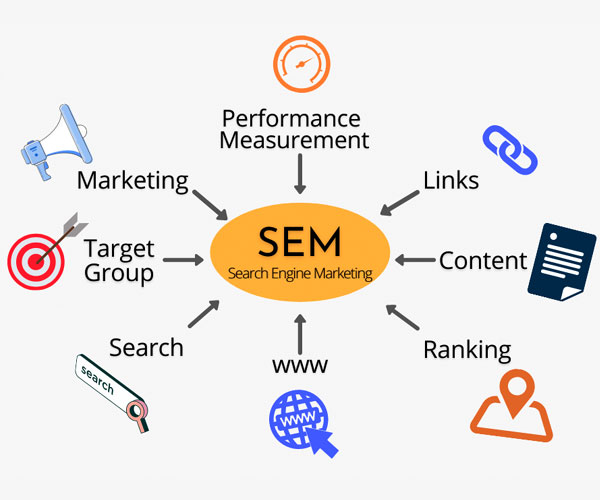 Search engines are a software system designed to carry out systematic online searches and deliver the best possible results based on the users' search query. As a business owner, your goal is to ensure search engines can find your website for it to show up and rank high in pertinent search engine results pages (SERPs).


Search engines have three significant functions




1. Crawl: Search engines use their own web crawlers or search engine spiders to scour billions of pages on the internet and find new and updated content, such as web pages, videos, PDF files and images. Search engine spiders fetch a few websites and follow the links on these pages to find new URLs.
2. Index: In this phase, search engines store and organize the content based on the keywords, data, recency and user engagement.The new URLs found in the crawling process are indexed in a massive database called Caffeine to be retrieved when the content on the URL matches an online user's search query.
3. Rank Search engines categorize web pages and rank them based on relevance to provide the most useful search results to online users. The higher your website ranks on SERPs, the greater your search visibility and significance to the query.

There are numerous search engines on the market that are set as a default with website browsers. These include Google, Bing, Yahoo, Baidu, DuckDuckGo, Yandex, Swisscows, CC Search, StartPage and Search Encrypt. Here's a closer look at the search engine market share worldwide:

WHAT IS SEARCH
ENGINE MARKETING?
Studies show that approximately 81 percent of consumers perform online research and spend an average of 79 days gathering information about a product or service before making a big purchase. This means the majority of online users have high purchasing intent.
Search engine advertising is one of the most cost-efficient ways to connect your brand with high-converting customers and increase your revenue. SEM advertising allows you to take advantage of consumers' online behavior and position your ads precisely when they are looking for your brand offerings and are ready to purchase