When it comes to generating and converting leads, there isn't a more powerful digital marketing tactic than email marketing.
Studies show that despite the growth and prominence of mobile messengers and chat applications, nearly 61 percent of consumers prefer facilitated brand interactions via email – and this preference extends across genders and age groups.
The widespread usage and increasing global relevance of email make email marketing more critical than ever before
What is email marketing? Email marketing is a digital marketing strategy used by thousands of businesses worldwide to create brand recognition, drive sales and build client relationships.
Email marketing companies leverage different email service providers (ESPs) to send out automated, personalized marketing emails that contain brand promotions and announcements. Anything from weekly email newsletters and promo alerts to customer survey forms and event invitations can be considered a form of email marketing.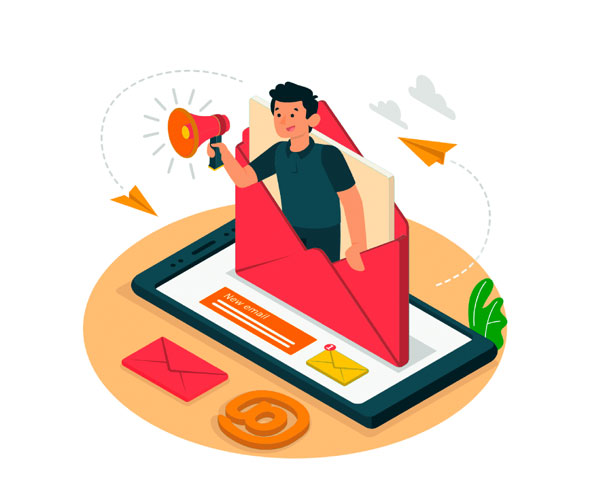 Globally, a whopping 87 percent of business-to-business (B2B) marketers and 79 percent of business-to-consumer (B2C) advertisers use email as a content distribution channel. Are you taking full advantage of email marketing services to grow and promote your business? How does your email marketing campaign fare in this competitive digital landscape? Begin your email marketing planning today and discover the most effective email marketing strategy to move your email contacts down your sales funnel.
WHY EMAIL MARKETING
IS IMPORTANT
The importance of email marketing in digital brand success cannot be emphasized enough. Online email marketing is one of the best marketing methods for earning business leads and delivering a high return on investment (ROI).
According to research, approximately 61 percent of email subscribers would like to receive promotional marketing emails every week and about 83 percent of customers spend more on a brand from which they've received web email marketing communications. Marketers also reported receiving an impressive 3,800 percent ROI or $38 for every dollar invested in an email marketing campaign.
Evidently, online email marketing presents an incredible opportunity to reach targeted customers and generate revenue growth. If you haven't started your email marketing planning, now's the time to consult with an email marketing specialist and sketch out how to move your business forward.